Greetings!
Recently we have encountered a problem with older backups not being automatically deleted. The problem started after we have (finally) upgraded our backup server from Win 7 to Win 10. It was a clean install of the OS. In the fresh environment we have installed latest version of Cobian (11.2.0.582) and used task list with former backup jobs (15 jobs in total, if this matters any).
So the new backup jobs were identical to old ones, however the only difference we made was changing the compression type from 7zip to zip for all jobs. But changed our minds and reverted back to 7zip compression soon after.
After all this, backups are created normally, but old ones are not removed.
Here are the settings for one of the backup jobs: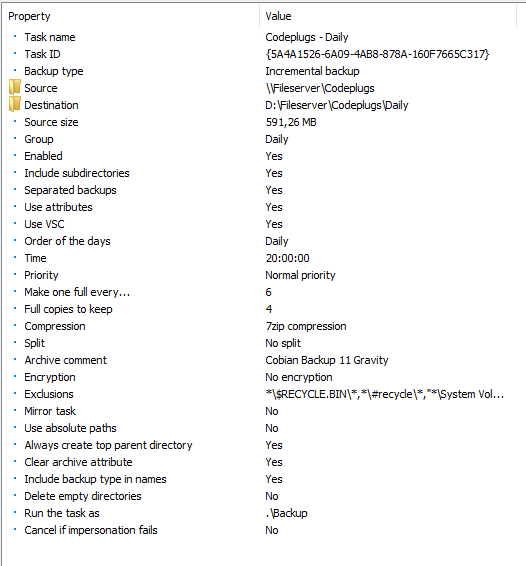 History for the job: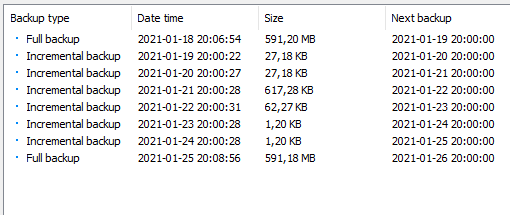 And backup files for the job:
From the backup files it can be seen how everything worked fine until the 13th of Jan when we started with the upgrade of the backup server machine. On the 18th of Jan, Cobian Backup was installed with all old jobs transferred. However, even though History List reports a Full Backup job for 18th of Jan, the 7zip file on the server does not exist!? And upon creation of new Full Backup on 25th of Jan, Cobian did not delete old Full Backup for 15th of Dec 2020 (including its incrementals).
Lastly, one more thing. Out of those 15 backup tasks, one was set differently: formerly it was a "no compression" task, but with a newly Backup Server, we have set it as a 7zip compression. Problem is similar as with other 14 tasks: old backup jobs are not automatically deleted.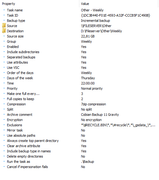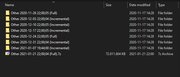 So, it seems like, if a compression type for a task is changed, Cobian "forgets" to delete old backups!?
Any help would be much appreciated!